Why Go See Ratatouille?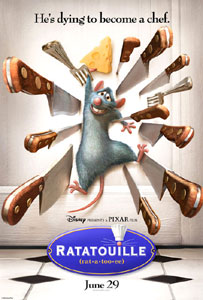 If you had asked me in January what one movie I was looking forward to this year, I may have thought about it for a minute, but there's no doubt the answer would be Ratatouille. Some people have asked why that is, so here's my reasons:
It looks funny, exciting, and really tasty.
It's about a rat who becomes the greatest chef in Paris. I mean, how does that work?
It's a Pixar movie. Their track record of amazing (or at least very good) films includes Toy Story, Finding Nemo, The Incredibles, and Cars.
It's written and directed by Brad Bird, the guy who wrote and directed The Incredibles, one of the best movies of the last five years.
Finally, just watch this movie trailer. Use the one below or watch it in better quality:

Doesn't it look beautiful (and even on YouTube)?
I'm a Pixar fanatic because I love quality animated movies, so that's all I really need to get me there. If you live in the neighborhood, I'm going to see it tonight (Saturday night), so give me a call if you want to join us. It should be a great time.