Blog Archive for August 2009
This morning it was announced that Marvel Entertainment is to be acquired by Walt Disney Corp. for $4 Billion. Many of my friends, as well as myself, seem to be a bit worried and skeptical about the future of their favorite Marvel characters. But, upon thinking about it more and more, I think this is a sound business decision and Disney will likely handle it well.
First, many Marvel fans seem to think that being associated with Disney means that Spider-Man and Wolverine will be portrayed as kids stuff just like Mickey and Hanna Montana. To many, that's all the Disney brand means. Remember that Disney is a multinational corporation that owns Disneyland, Disney World, Walt Disney Pictures and PIXAR, as well as other Hollywood studios such as Touchstone Pictures, Miramax, and Hollywood Pictures. Disney also owns The ABC Network, ESPN, as well as a couple music labels and a radio network. People don't think of Wes Anderson's first four films, most of Quentin Tarantino's films, as well as Scream, Spy Kids, and Farenheight 9/11, but that's because Disney doesn't stick the mouse ears right on the screen. Not everyone in the world is fans of Mickey and Donald, and Disney still does business that caters to them.
Second, Disney is always looking for some of the hottest properties out there. Marvel Entertainment, a leader in the comic book world, is definitely a great new business to get into when looking for more avenues to make profit. Marvel used to sell the movie rights to other studios for such things as X-Men, Spider-Man, and The Fantastic Four. But more recently Marvel Entertainment has been financing and producing the movies themselves. So far, with films such as Iron Man and The Incredible Hulk, the production quality and the reception by the fans has been even better than before Marvel Studios was formed. Marvel and Disney did say that the distribution agreements with Paramount, Sony, and Fox are going to be continued. I can see Disney wanting to buy back some of these rights, but it shows that Disney knows Marvel has done things right and they don't want to ruin that for the rather small distribution fees. Also, the news also cited that Disney has many hot properties for the female market such as Hanna Montana and The Jonas Brothers and are looking for more products to capitalize on the male teen and adult, and that's right where Marvel is at the top of the list.
Third, I think Marvel does stand to gain from the help of Disney. George Lucas may be known as the one who started "merchandising" for movies, but Disney definitely brought merchandising to a whole new level and does it in smart, intelligent ways that cater to their audience. Will we see cool Superman or X-Men rides at Disney World? That could be awesome! Will we see more Iron Man toys? Probably. One quote from Disney CEO Bob Iger, who brought Disney back from the brink of losing its magic touch four years ago, was that PIXAR Animation Studios is excited about working on Marvel properties. (Think the action of The Incredibles with some of the world's best-known comic book characters.) Also, Marvel has over 4,000 characters, but they don't really have the money to make movies for even a fraction of those characters. With the financial muscle of Disney, I think we can expect plenty more Marvel content in the future.
Don't get me wrong. Disney could screw this up really bad. However, for these reasons and others, I think it's too much in Disney's best interest to let Marvel do their thing and help them out. In that, I mean that Disney sees the dollars rolling in with the acquisition of Marvel, as long as they stay smart. The last four years since Bob Iger's takeover as CEO has been Disney's best in the last decade, and with smart business decisions like this, I think Disney may get even better.
Today's feature is a shirt that is seldom worn. It doesn't sport a cool band name or even some geeky phrase, but it does show the skyline of one of my favorite cities: Chicago.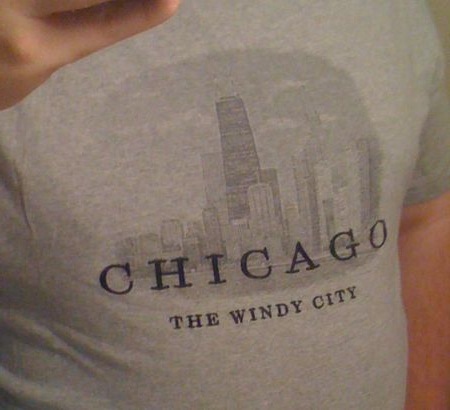 In April 2003 the University of St. Thomas Liturgical Choir went to Chicago for an extended weekend and it was lots of fun. Actually, we had so much fun, this touristy shirt was an afterthought purchased while loading up the bus to leave. It was purchased from the hotel gift/convenience store of the Holiday Inn we stayed at.
Despite the last-minute purchase, I do enjoy the shirt. It's got a nice look at the Chicago skyline and looks great. I think the reason I don't wear it too often is because it's a bit small and the lettering is embroidered into the shirt and therefore the way the shirt bunches up around it feels odd while wearing it.
Although, speaking of Chicago, I'm planning on going to Chicago at least once this September. Over Labor Day weekend, my parents and I are going to hang out in the parks downtown and meet up with my sisters who live a couple hours away. Also, I'm seriously considering a September 16th trip to Chicago to catch one of the final U.S. tour dates of my all-time favorite band, delirious?.
During these trips, I hope to catch up with some of the things that I've yet to experience in Chicago or want to experience again. First, The R!OT and others have said that I have to get some authentic Chicago pizza, and most say Giordano's is the place, so hopefully we'll be able to do that. Last year, while in town for the Music Builds tour, we also found some fun Chicago places that we liked. My favorite was Epic Burger, a classy new burger joint that also had really good fries for a pretty good price. My sisters fell in love with Argo Tea, a very nice downtown tea shop as well, and although I don't really drink tea, it just smelled nice in there. Of course, my family loves walking down by the water and hanging out in the myriad of park spaces along the water, especially Millennium Park and more.