The Derek Webb Shirt
This is a shirt that I got at a show just two and a half blocks from my house. Of course, it wasn't just because the show was that close that I went, it was also because I've been a big fan of Derek Webb for much longer than that. It's dark red and has a rather weird design on the front top left of the shirt, like this: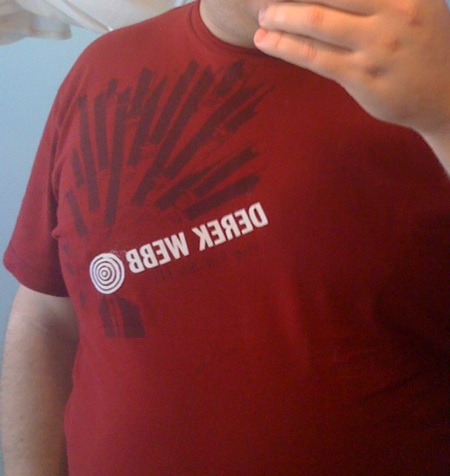 The artwork has Derek Webb's name and a bunch of black sleeves pointing to a target next to his name.  Also, in black lettering, it also says "The Ringing Bell" under his name, which is the name of his latest album.  The shirt is based on the album artwork for The Ringing Bell which was designed by Portland Studios and pictured below: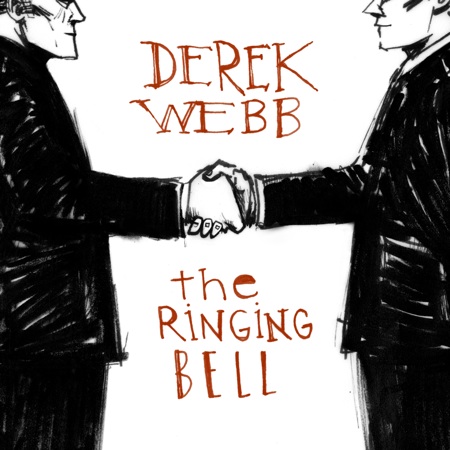 Wait, no, that's the album cover, but the shirt is based on the cover of the graphic novel that Portland Studios made based on the lyrics of the album.  It's a fun interpretation of the content of the album, and here's that cover:
Derek Webb has spent many years as part of the band Caedmon's Call, although he did not often write many of the popular songs that were on Christian radio. In the early 2000s Derek left Caedmon's Call to start his own solo career, and he came out with guns blazing. She Must And Shall Go Free was a plea to the church to stop in-fighting and begin to be the church that Jesus called it to be. I See Things Upside Down, his second album, is probably my favorite because it is filled with big production values and lots of electric guitar licks, although many die-hard Caedmon's fans didn't like this style. He got back to the acoustic guitar-based songs and put in a more political bent in on Mockingbird. The Ringing Bell is one of my favorites as well, as more electric romps are included and it's a little more whymsical at parts.
So, back to this concert. In fall 2007, Derek Webb and his wife, artist Sandra McCracken, did a short tour of the U.S. with a couple artists to fill out a band. I don't know who booked the Varsity Theater down the street, but I knew I wanted to catch Derek with a band, because I love his sound compared to his acoustic sound. I know he doesn't tour with a band often, so I had to catch it. Thankfully, it was on a Sunday evening with not much going on for me, so I went. It was a great time, Derek played lots of my rock 'n' roll favorites, and I got this T-shirt and the Sandra McCracken albums I didn't already have. I loved how Sandra, after her opening set, had to go back to the bus to make sure their 4-month-old baby was sleeping or taken care of and then came back to play keyboards later in Derek's set. It was great to see an artist that I enjoyed appearing at the local concert hall, and a lot of people came out to see the show. Ohh, and after that I went to the Chatterbox Pub in St. Paul with some friends for the first time, although they didn't go to the concert.
If you'd like to check out Derek's music, you can use this NoiseTrade widget. And by clicking through to the NoiseTrade site, you can even download the album for free, given that you tell your friends about it.