The Jars of Clay Shirt
Finally!  I've been a huge fan of Jars of Clay for over a decade and it took me until August 2008 to get a Jars of Clay T-shirt!  But it's a beauty: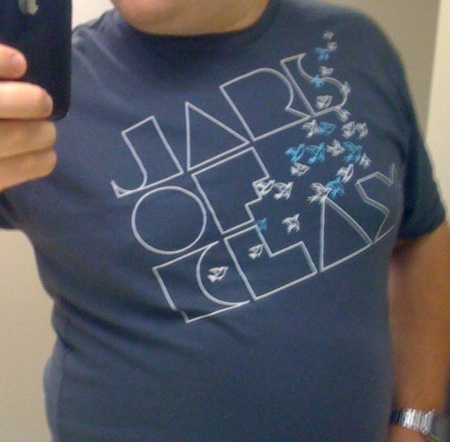 Plus, I got it during one of the best mini-vacations ever - a whirlwind weekend to Chicago to hang out with two of my sisters and see a bunch of my favorite bands!  In late August, my sister and I traveled to Chicago to meet my sister who goes to college in nearby South Bend, Indiana.  (We took the Megabus from Minneapolis, which is a very cost-effective way to get to Chicago from many places in the midwest.)  That evening, we caught a stop on the Music Builds Tour, which featured Jars of Clay, Robert Randolph & The Family Band, Switchfoot and Third Day, possibly one of the most amazing lineups in my rather short music history.  It was great to see the Jars guys rockin' it onstage since the last time we'd seen them was in 2002.  Robert Randolph and hte Family Band rocked the place like only they can and brought a bit of Gospel flavor as well.  Switchfoot, of course, put on an amazing and inspiring show and all the bands came back for a synergistic encore.  Oh, and did I mention that it was outdoors on Lake Michigan on a beautiful August day?  That too!
The shirt, as you can probably tell, is gray and has the outline of the word "Jars of Clay" on it with some little bird figures.  It's rock and roll and kinda pretty at the same time.  And now, I support one of my all-time favorite bands via my favorite art form: T-shirts.