Apple's New iPad: A Bigger iPod touch
Yesterday morning Apple Inc. went ahead and showed the world their newest gadget, the iPad.  In pretty much every way, it is just an oversize iPod touch, but Apple hopes you will think it's much more than that.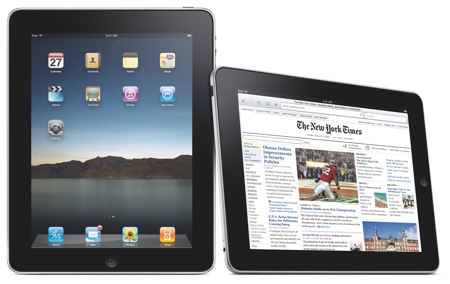 Steve Jobs is quoted as saying that the iPad is "a revolutionary device" and is "magical".  Where's the magic?  Well, it's thin.  A half inch thin with nicely tapered edges on the back to make it look even thinner.  The back cover is a nicely-curved piece of aluminum and the front is a beautiful 9.7 piece of glass with an LCD screen behind it.  The screen is bright has great viewing angles but they still pack 10 hours of battery usage (and weeks of standby) into the guts behind the screen.  And, if you do go to the Apple Store and try one out in a couple months, you will most likely enjoy touching the screen and watching a video on it.  But I don't think it's magical or that everyone need save up their pennies to get the $499 device.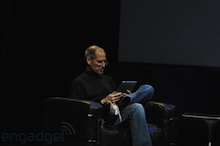 On the stage that they presented it, Steve Jobs and Phil Schiller demoed the new Apple iPad while sitting in a cushy living-room style chair.  And that's just what Apple hopes you'll think you need.  I carry my iPhone when on the go.  When I need to get serious work done, I go into my room and work on my laptop computer.  But although my laptop is portable and I could bring it into the living room for hanging out or personal entertainment, Apple would rather see me keep this lying about the living room.  I guess I wouldn't mind, but I'm actually plenty comfortable watching videos and doing pretty much everything on my MacBook Pro or iPhone, thank you.  There will be the millions of Apple fans who will get one and maybe the rich who want another unique computer will get one, but it's not yet apparent why I'd want an iPad if I've got the rest of the Apple family covering my needs.
As per usual, Apple has taken their popular, built-in iPhone apps and made them even more impressive.  With about 5x more screen real estate, the ability to browse through e-mail, contacts, calendar, photos and videos is even better looking and there's much more room for ancillary features and buttons all over the screen.  And, of course, web browsing is really smooth and slick-looking.  Apple has also re-built their iWork suite for the iPad, building entirely new and intuitive ways to enter text and manipulate documents.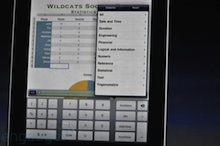 One of the standouts in this area is the input pads replacing the virtual keyboard: one that is a number pad, one that includes more of the common functions, and one that makes it really easy to input dates.  Also, there's simple and beautiful interfaces for moving around slides in Keynote and text in Pages.  While these iWork apps are not as full-featured as the Mac OS X counterparts, most of the features of its bigger brother are retained, as opposed to the iPhone and iPod touch, where users can currently only view these documents.  The iPod functionality looks more like iTunes in its browsing and playback functionality as well, thanks to the bigger screen.
One of the main features of the iPod touch and iPhone is the myriads of apps that are available for free and for pay on the iTunes App Store, and the Apple iPad piggybacks on that very well.  Any iPod touch/iPhone app will run in a fifth of the screen area just as it is on the iPad's smaller family members, but you can also quadruple the size to get a more full-screen feel to your old apps.  Even more exciting, though, is the great new ideas that developers will be coming up with over the coming months for the iPad.  At the event, The New York Times showed a beautiful app that displays the paper's content in a way that resembles paper really well but also gives much more control over to the user in that they can change the columns, text sizing, and easily flip through sections without ever losing that newspaper feel.  No word of this yet, but I hope that an easy way to browse my favorite print magazines in full color comes out of this.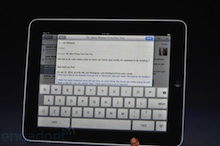 Gameloft and EA showed off games that use the bigger screen, touchscreen area and the new Apple A4 processor to show better graphics, but also to add more display bells and whistles such as maps and gauges as well as more controls, some of which can even be moved around the screen to wherever the user preferred to have them.  Also, MLB.com showed an updated version of their popular app that got me excited for April's season opener: the Gameday screen on the Apple iPad has pretty much every statistic that MLB collects available on screen or with one swipe of the finger.  Also, they showed full screen live games and the ability to pull up lots of those statistics right on top of the live video in transparent overlays.  That will sell the iPad to those who want more than their transistor radios to follow baseball, I think.
The major problems with the Apple iPad are almost exactly the same as the iPhone: Apple is too controlling to make it a very useful device.  Developers such as EA, The New York Times, and MLB.com have been able to create cool apps.  But, as I said months ago, there are many ideas developers have for apps for iPad/iPhone, but they are not sure if Apple will let them sell it because it may compete with something Apple is building or one of Apple's partners has created.  Also, especially with a more powerful machine such as the iPad, Apple needs to be allowing the iPad to run more than one program at once.  Yeah, only allowing one program to run makes the iPad seem faster, but all we'd really like to do is play Pandora (or some similar live streaming audio) in the background while browsing a site or working on a document.  Apple, in my opinion, needs to get these types of things fixed and figured out before real success will be seen among power users.
On the other hand, the reason Apple loves this closed platform they've built is because they control all of it and get a couple cents for every transaction made with their device.  There are other downsides, as well.  It's not a great movie device because the screen is square and not widescreen so over a third of the screen will be black bars when viewing movies and video podcasts.  The base product has WiFi including the speedy 802.11n, but another $130 (and then $30/month) is required to get 3G cell phone data access and GPS capabilities, so it is not cheap to use this out of your house where you have the WiFi.  Also, there are a number of features of the Apple iPad that require fairly regular syncing with iTunes in order to be useful.  In a related note, there's no way to use the iPhone or iPad as a USB hard drive and it is unclear as to how you get your iWork documents on the iPad, especially now that the iPad has (up to) 64GB of storage.
Even though I see no need for an iPad in my living room and in the living room of most people, there are some applications that may be perfect for the iPad.  One thing that Apple announced was the new iBook store.  In the iBook store, users of the iPad can purchase bestselling books that include full-color photos and even videos and users can change the font size and even the typeface of the book on the fly.  This may be a preferred view for those who currently enjoy the Amazon Kindle, and there's talk of the iBook store selling textbooks and therefore it may be popular to give to students instead of carrying around piles of textbooks.  Persons who are on the road and manipulate geographic data will enjoy applications that use the big screen for maps and built-in GPS and compass data.  Medical applications may find the iPad useful, although some expect that the lack of the ability to write on the iPad to be a downside.  Another interesting application will likely be for artists, as some have been using the iPod touch and a program called "Brushes" to make professional artwork and the brilliant 9.7-inch display will no doubt bring in more creative opportunities.
Overall, the Apple iPad is a fairly impressive device looking for a market.  Only time will tell what that market is and how successful it will be.