How Best Buy Makes Their Money

This weekend, I'm going on a trip to South Bend, Indiana. For the trip, I decided I should have an iTrip, the very helpful device that charges your iPod or iPhone while also transmitting the audio over the radio waves. It's a great product and I've had ones numerous times before, but I seemed to have misplaced mine over the last 6-8 months. I looked up the product on their site and found that the product I wanted was regularly priced at $69.99. (It seems that having an iPod connector and the stickers that say "Made for iPhone" and "Made for iPod" cost at least $20 per device, which is ridiculous.)
I am leaving on Friday night, so I was a bit short on time to get the product. So, I went to the most convenient location: the Best Buy in the Mall of America, which is close to work. Sure enough, they had the product there. But wait? Wasn't the MSRP at $69.99? Yeah, it is, but Best Buy is charging $72.99! Well, I need it pretty quick and I don't have time to order it online, so I went ahead and purchased it. With MN sales tax, my total expense was $78.30.
After the fact, I decided to do some online price comparison. Of course, I went to Amazon.com, where they verify that the MSRP is $69.99. But lo, they're selling it for $46.99! Just as a comparison, I priced out overnight shipping from Amazon.com for the same product, and Amazon.com will get it to my door tomorrow for $64.97.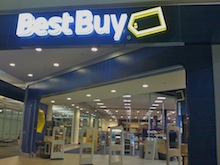 Why the discrepancy? First, Best Buy knows that you came to their store to get this item. The Griffin ITrip is not like the DVD, CD, or even that Nintendo DS game where you just say, "Yeah, that's not too pricey, I'll get this too." You need the iTrip. Therefore, Best Buy is going to make sure they can get all the profit out of the iTrip that they can. Amazon.com, on the other hand, offers the iTrip at just a bit above their cost of getting the product, most likely. If we assume both Best Buy and Amazon.com have get these units for the same price from Griffin, Best Buy just got over 35% of my product's price as profit. On the other hand, Amazon.com didn't charge me the 33% and kept the couple percent as profit and operating costs.
Is this highway robbery? Not really. Best Buy has massive costs they have to cover, such as renting all that retail space and paying undereducated employees. The part I think is highway robbery is the extra $3 over the Manufacturer's Suggested Retail Price (MSRP). I probably should have left and gone to the Apple Store, because if they have the product, I doubt they sell it for more than the MSRP.