Blog Archive for May 2008
If there's anything I've learned in the last year, it's that everyone I know thinks I'm totally insane. Well, at least anyone who asks my opinion about movies. So, for those of you who think I'm off my rocker, enjoy this next little bit. If you still think I know something about movies, feel free to learn a bit or two.
I've only seen a couple movies so far this year, but so far my favorites have been the ones I wasn't expecting - I had see the movie trailers and wasn't planning to go see them. After the movie was in theaters, there was enough buzz (not hype) about the films that I ended up catching them in the theaters. These films were Iron Man and Speed Racer. The former was a fun story of another self-made superhero like Batman - Tony Stark realizes that someone has to stop the violence in this world and therefore starts his quest to build an armored suit filled with amazing nanotechnology. It was lots of fun.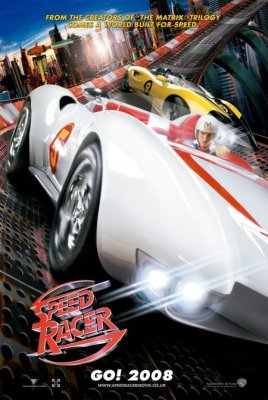 I just got back from seeing Speed Racer, which was an amazing sight to behold. Probably my favorite thing was that every frame of the film was filled with the most vibrant rainbow of colors, even more than the amazing Curse of the Golden Flower. It's the most psychedelic film I've probably ever seen and the twisting, ridiculous tracks the characters race on were more than exhilarating for the viewer (think MegaRace taken to a whole new level, for you old-school PC gamers). Also, it was possibly the most fast-paced movie I've seen throughout the film's 135 minutes, with most slower plot points mashed together via fast cuts and innovative wipes. The plot was a heartwearming tale of fast-paced racing, family values and sportsmanship pitted against those who make the game into big business.
Although the film was only rated PG, I don't think it's a great one for young kids. One of the major comedic elements is a young kid and the family monkey, which are obviously aimed at the kids, but there is some language and a bit too many scenes of immodest women to show this to the youngsters, in my opinion. John Goodman and Susan Sarandon do a great job as parents of the main character, Speed Racer, as he deals with his growing success and making his own decisions.
Of course, this time of year is the time of the summer blockbuster, a huge movie event that is full of special effects and is, for sure, best viewed on a big screen. These films are from the first crop of the year's blockbusters, and so far it's been a good ride. The other major blockbusters, Indiana Jones and the Kingdom of the Crystal Skull and The Chronicles of Narnia: Prince Caspian were both more of a spectacle than their previous incarnations, but both failed to blow the mind in the same way as these newcomers did (as is often the case). Of course, in any given year there are the non-blockbuster movies, which I get to whenever I can because they're not something you have to witness in the theaters. These types of films just aren't the same at home on DVD, at least not yet (or at any of my friend's houses).
For any of those who are wondering, here's the films I'm looking forward to checking out this summer (although we'll see if they're all as good as I hope):
The Incredible Hulk (June 13) - Edward Norton can make this one work, I think.
The Happening (June 13) - Hopefully M. Night Shyamalan can get Mark Whalberg to do something interesting for the first time.
Get Smart (June 20) - This one might be good.
Wall-E (June 27) - No doubt. This is the movie event of the year.
Hellboy II: The Golden Army (July 11) - Guillermo del Toro is back to work his magic.
The Dark Knight (July 18) - Christopher Nolan is back for an amazing thrill ride.
Star Wars: The Clone Wars (August 15) - Who knows if this will be good, but it looks like it could be a nice 3-D animated fleshing out of the Clone Wars.
Well, maybe it's not that people don't respect my opinion; maybe it's that I have too many types of films I enjoy. I mean, my favorites from last year were Ratatouille, Hot Fuzz, and There Will Be Blood - how many people do you know that liked all of those films and has a modest collection of Disney films in their DVD collection? The only one I know is me.
Over the past day, I've enjoyed the three to four hours it took me to read Prince Caspian, the second book of the Chronicles of Narnia series (if you count them correctly). It had been a long time since I read it, but I really enjoyed the experience of a good children's fantasy book, which I haven't had since last summer's Harry Potter tome. Narnia is a great, wild world, and Lewis also brings a rich history of characters and exciting landscapes to each and every book. But seeing as this post is more about how the movie will end up, let's talk about the other recent fantasy franchises.
First and foremost, there's The Lord of the Rings trilogy, written by J.R.R. Tolkien and directed for the screen by Peter Jackson. This one was epic. Everything was so masterfully done that every detail screamed "this is Middle Earth". With the long film runtimes (and especially in the extended editions), they were able to put in many of those touches that made it as close as you can get to authentic Tolkien. The films were made on such a big scale that they were events to behold. There were a number of aspects of the films that grossly misrepresented and misinterpreted Tolkien's vision, in my opinion, but the films were, overall, very enjoyable and at least in the overall spirit of the Middle Earth that Tolkien chronicled.  I went to see each movie a couple times in the theater and watched all the extended versions once.
The second and most contemporary of the fantasy epics is the Harry Potter series, which tells the story of young Harry Potter in his years at Britain's foremost school of wizardry.  The first couple films were slightly lacking in the special effects department, but all of them solidly brought J.K. Rowling's magical world to a vibrant life.  I've enjoyed every film immensely, but for some reason I've never had the desire to watch any of them a second time.  I guess I don't watch movies numerous times unless I find them so cool that I want to show them to all my friends, but I never felt that with Harry's movies.  Maybe it's just because everyone else is into them.  Maybe it's because it follows the books so closely that I feel like I've already seen it before.  And maybe it's because I find the book was better and my imagination found it cooler, but I'm not sure.
This brings us to the first installment of The Chronicles of Narnia in feature-length film, The Lion, The Witch, and the Wardrobe.  I went to see it with a friend on opening weekend just a week after reading the novel it was based on.  I'd read it a whole number of times in my childhood, but I found it still was a great read even in my mid-twenties.  However, when I saw the film, I was a little disappointed.  I didn't feel the filmmakers captured the epic land of Narnia that well, and I found the movie's special effects a bit too unpolished to be believable.  It was a good, faithful adaptation of the book, but it lacked the connection I felt with Jackson's interpretation of MIddle Earth.  Even in the couple years since the Wardrobe released, I've had no strong desire to give it another look.
In my opinion, Prince Caspian is going to be pretty hard to make into a film.  The book lacks connection with the main characters for long gaps, as the first third follows the Pevensie's as they rediscover Narnia, the second talks about the titular character, and the ending has almost all of the action and brings both parties together.  It could easily be a problem for the pacing and development of the film.  Also, with the basis of the first film firmly behind us, there's actually not that complicated of a plot, so I can see why the old BBC version just spun it into the start of Dawn Treader.
All this is to say that I hope they can do better with Prince Caspian and not just try to churn out a sequel.  It could be with less to do in the 140 minutes that they will do a better job of bringing Narnia to life.  Walden Media has historically done a great job with creating films from books, and with Douglas Gresham helping out with production just like the last film, it could be the best film of the year.  On the other hand, Andrew Adamson's only film experience besides Wardrobe is directing the immoral and unintelligent Shrek and Shrek 2, so there's very little depth to draw upon from the director.  I'm still going to see it this Friday, but here's to hoping that the production team can overcome the film's inherent hurdles.  If not, we have next to look forward to a possible adaptation of The Screwatape Letters sometime in the next couple years and the film adaptation of one of my favorites, The Voyage of the Dawn Treader in May 2010.
A couple weeks ago, a friend who usually requires me to comment on the latest news from Apple told me that she wanted to hear more about me and what I'm up to on my blog.  She also asked that I post those on top of the technology posts, then just a couple days ago she asked me, "What's Drupal?" and I told her to get reading.
In the past, I have posted slightly more personal goings-on on my blog.  But, thanks to the evolution of the Web 2.0, I get to do those types of things in bunches of ways.  First, there's services like Twitter and Pownce that allow you to post a quick little message to your friends.  Both of these can be easily posted from my phone, so it's easy to post directly what I'm up to.  (I use a service called TwitterFeed to just post to Pownce and then they cross-post it to Twitter for me.)  Here's what I've been talking about on Pownce/Twitter for the last couple months:
I posted my regular goings on during a March trip to Arizona.
I talked about my love for artists like Andy Hunter and John Reuben, as well as being hopeful about the new Coldplay.
I commented on the squealing power brick on Kevin's computer.
I posted random, out-of-context quotes from life here in Dinkytown.
I overrreacted a bit when housemates were burning stuff in the kitchen and it made the house reek.
You can pretty much get me to do anything if you offer me fresh Chipotle burritos.
I posted links to some of my favorite content from HomeStarRunner.com.
I professed my love for jQuery (which I get to learn about more today with the Lullabots).
I got my bicycle out and have rode it around a couple times.
I "live-blogged" some of the talks from the People of Praise men's retreat by posting some of the more pivotal points in the talk.
I quoted Sixpence None The Richer and Avril Lavigne.
I posted about last weekend's adventures camping near Taylor's Falls, MN.
I've made a couple comments about this week's Lullabot workshop as well.
The second place you can see stuff I'm interested is on my Google Reader Shared page.  I use Google Reader all the time to keep track of sites that get updated, and if you have me listed as a Google Talk contact, you should see my Shared Items right in your Google Reader (or you can use the page).  Here's some cool items I've shared as some of my favorites:
I'd say that if you want to know what I'm thinking about and doing, just bookmark the Pownce and Google Reader pages and keep up with the reading.  If I do have longer, more thoughtful posts to put up, I will keep posting them here.  Also, a regular feature showing off my many stylish T-shirts may be in the works as well for this blog.