Blog Archive for March 2009
Well, it seems that, unless I'm doing a T-shirt post, I have to start these blog posts with a disclaimer.  So I'll do that.  DrupalCon DC is the first large conference I've ever really been to, so I suppose lots of things impress me.  It's been a great show to learn about Drupal so far, and I can't wait to get down 'n' dirty with Drupal coding tomorrow!
First, the folks at Development Seed, who put on the conference, did an amazing job at the graphics for the conference as well as the website functionality.  First, there's the DrupalCon DC website, which even won a design mention from Smashing Magazine.  It's a great background and great artwork that immediately brings a DC feel.  They translated this graphic design to the posters in the lobby, like this one: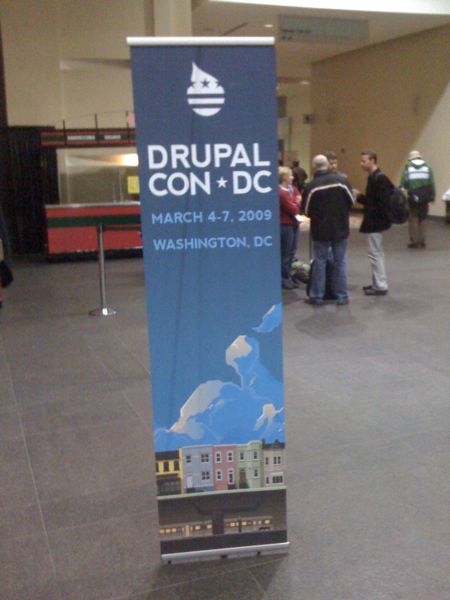 Also, the booklet with the map of the conference rooms and session schedule had another version of this graphic: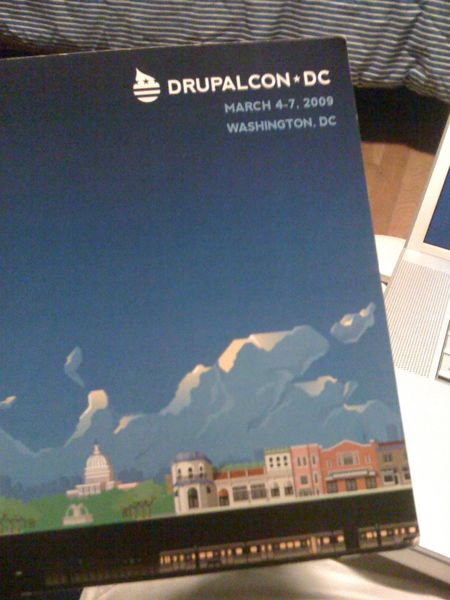 I also love how the booklets even have the Metro underneath the ground, because that's also one of my favorite parts of DC in the first place.
The DrupalCon DC swag was also really fun.  First, there's the badge that verifies you paid for the conference and lists your name, which looks like a coffee cup: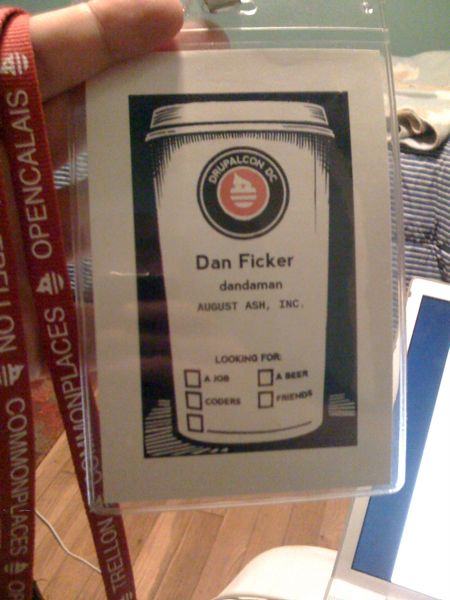 And, finaly, the DrupalCon DC bag seems to be a pretty nice, reusable grocery bag with a sarcastic-looking design of a recycling bin on the side.  I like it, though, because it's not just a crappy messenger bag or something similar that will either break or you'll just throw it out.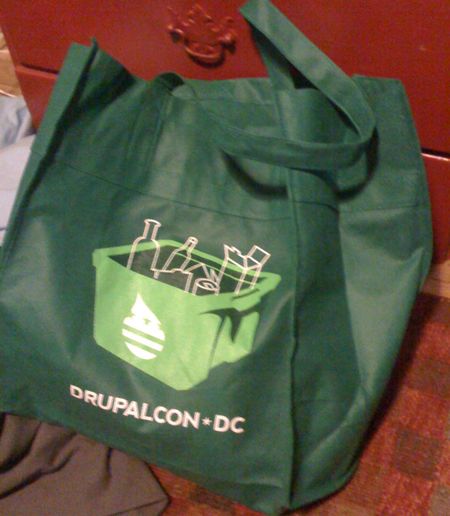 Another fun item is that, before the show's keynotes, the large projection screens show Twitter messages from people about #drupalcon.  Here's one of my Tweet's on the screen - my Tweet is about 2 feet tall: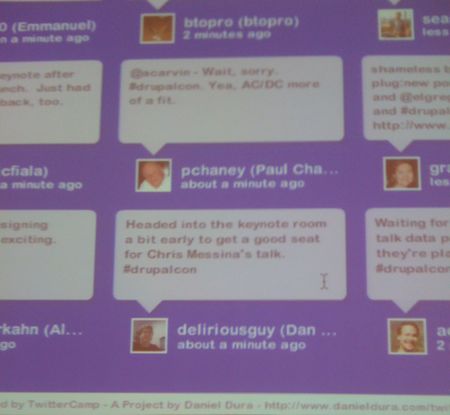 And yes, although I didn't really attend any of the parties, many folks were getting creative in the party invites or other swag that they gave out.  My favorite is for tonight's party put on by Lullaobot, which is a real floppy disk and emulates an old pin printer's look: